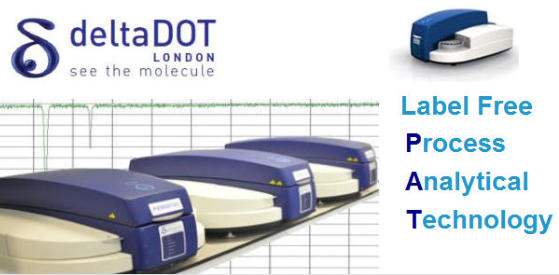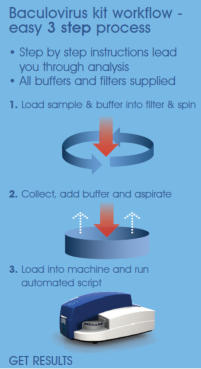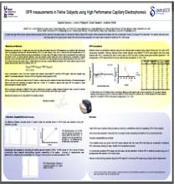 deltaTITER Baculovirus Analysis
deltaTITER allows researchers to accurately quantify the amount of baculovirus in
a sample in as little as one hour. The method is kit-based, automated and simple to
use. deltaTITER uses a proprietary buffer system that utilises deltaDOT's state-of-
the art
HPCE
technology. The results show excellent reproducibility of 6% relative
standard deviation.
In R&D, scale-up and production phases, deltaTITER gives an excellent return on
investment by drastically reducing cycle times. deltaTITER has been developed in
collaboration with the pharmaceutical industry, to ensure that it meets your needs.
Benefits
Fast – results in 1 hour
•
Accurate – relative standard deviation of ~ 6%
•
Innovative – proven analytical separation technology
•
Time-saving – significant reduction in cycle time
•
Simple – automated and kit-based
•
Reproducible – from titration to titration
•
Universal – across R&D, scale-up and production
High Performance
Capillary
Electrophoresis
HPCE
Application Notes
CZE of peptides using a multi-pixel
detector array
Amino Acids - Small Molecules
Chiral - Enantiomer analysis of small
molecules
Monoclonal Antibody APP Notes
E.coli complex protein lysate analysis
Antibodies - Protein, SDS-CGE
Analysis of Immunoglobulin G (IgG)
Analysis of Recombinant Human
Erythropoietin
Analysis of Transferrin using LFII®
Analysis of Antibiotics in food products
Analysis of Small Molecules
Artificial Sweeteners
Analytical Services Brochure
GFR Assay by Iohexol
GFR Measurement
by Iohexol (article)
deltaDOT Brochure
deltaDOT
Technical Presentation









Application notes for download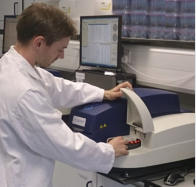 GFR assessment
using Iohexol


GFR Measurement
using deltaDOT HPCE
(poster)


Glomerular filtration rate
(GFR)
by Iohexol clearance
The test is designed to identify early renal disease and monitor its
progression in companion animals. A Label-Free High Performance Capillary
Electrophoresis (HPCE) method is used for the determination of GFR values
in feline subjects administered with the contrast agent Iohexol
(Omnipaque™). This capillary electrophoresis technique gives quicker
results, with minimal sample preparation and lower costs compared to
traditional HPLC techniques. The method allows next-day estimation of feline
GFR in veterinary practice using as few as 3 samples taken after injection of
a Iohexol bolus.



Monoclonal Antibodies
Profiling
deltaDOT HPCE
comparison to Masspec